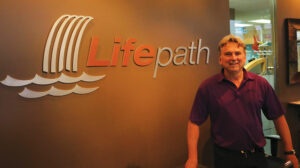 Practicing dentist and owner of Chestermere Lifepath Wellness, Dr. Jed Snatic attempts to make the world a better place one client at a time.
"Dentistry is one of the most rewarding professions. For us, gratification is instant. Patients come in with a broken tooth or similar problem; we freeze them, fix them, and it's done," Snatic said.
Dr. Snatic, the dentist, sees patients daily, then switches gears after-hours. Business management, attracting new doctors, and building new offices are all part of his daily scope.
The team at Chestermere Lifepath Wellness treat people with services ranging from dentistry, Medspa services, massage therapy, physiotherapy, naturopathic, chiropractic, acupuncture, dietary and counselling.
For Dr. Snatic, growing his practice from two dental chairs to 12 has been very rewarding.
"It's been wonderful for us. We have always been fortunate that we have had a good following since we started here," Snatic said.
Certified Laser Technician and Medspa manager Vanessa Khalil developed a passion for the beauty industry after she was a patient at the Chestermere Lifepath Wellness facility.
"I developed a great relationship with everybody and was prompted to get into the industry. It was something I loved," Khalil said.
Now, Khalil treats patients for laser hair removal and skin rejuvenation. She also assists Dr. Snatic with dentistry,  works with administration and scheduling.
Supporting the community has always been important to Dr. Snatic and his team.
Chestermere Lifepath Wellness gives back to the community through charitable donations, supporting local sports teams, promoting the arts, and hosting wellness shows.
When Dr. Snatic is not working, he is supporting his daughters who are heavily involved in sports or spinning the globe and travelling to wherever it stops.
"Much of our travel is business. It takes up a lot of time, but traveling is one of my biggest passions. One of the jokes around here is that I'm always on holidays," Snatic said.