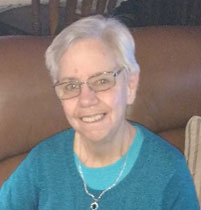 January 16 1948 – April 9 2020
It is with profound sadness that we announce the passing of Barbara Berg on April 9th, 2020. Barbara was born on January 16, 1948 in the city of Calgary.
Barbara is a long time resident of Chestermere. She is survived by Roy, her husband of 52 years, her son Eric Berg (Tina), and granddaughter Dani, as well as ex daughter in law Vittoria Valente and granddaughter Grace Berg. Barbara and her family moved to Chestermere in 1973. Her involvement with Chestermere started with her role as secretary then progressed to the town administrator for the Summer Village of Chestermere Lake.
She was a great supporter of the Chestermere volunteer fire and rescue department and participated in many community activities. In her spare time she was an avid reader and loved tending to her flower garden. Her infectious smile and calm demeanor will be missed by all.
The family would like to say thank you and recognize the great care and support given by the staff at the Bethany Riverview Long Term Care Facility, Calgary. The celebration of life will be announced at a later date.