Davis, Adam Lawrence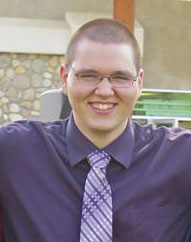 Davis, Adam Lawrence
May 11, 1995 – February 1, 2018
Forever in Our Hearts
It is with heavy hearts that we announce the passing of our beautiful baby boy and little brother, although he would probably hate us calling him that.
Adam was born at the Peter Lougheed Hospital and lived his entire life in Chestermere until this past year when he moved into the Bob Ward Residence through URSA, a brain injury group.
Adam was an extraordinary person, always his authentic self no matter what anyone else thought. He was an extremely intelligent young man who would be eager to correct your grammar or add a lesser known and interesting fact to just about any topic.
As a youngster he was involved in soccer, beavers, curling, basketball, cadets, singing lessons, taekwando and football.
He was a continuous learner, loving to read and follow numerous internet sites where he listened at two and a half times the normal speed. He also studied Japanese language as it was his dream to go to Japan to see the cherry blossoms in the spring time.
Adam was a tea snob who loved Anime, Dungeons & Dragons game nights, drives through the mountains, dips at hot springs, family holidays at Loon Lake and history. He was such an amazing wealth of knowledge.
After high school he went to SAIT to obtain his welding certification and then apprenticed at Twin Peaks Construction. He so enjoyed his job and co-workers there.
Unfortunately, Adam suffered from depression and attempted to end his life in June of 2015. He suffered paralysis of the left side of his body and spent 11 months in hospital. He showed a great strength of character, working so hard to walk again and get his driver's license back.
We hoped that he could find enough happiness in his new-found independence. That was not to be and on February 1st 2018, he took his own life, leaving a huge hole in our family and in our hearts.
Adam is loved and will be greatly missed by his parents Mark and Elizabeth (B.J.) Davis, brothers Collin Davis (Sarah Keuning) and Keith Davis, grandparents Joyce Silvers, Keith and Marilyn Davis, as well as numerous aunts, uncles, cousins and good friends.
He will be welcomed with open arms by his grandparents Ronald Silvers, Lawrence and Dorothy Webb, aunt Linda Jacobson, cousin Kelly Jacobson, good friend Sanjeet Kumar, and other family.
No doubt he is already sitting at a computer with his Grandpa Webb and Sanjeet.
With tearful sadness we say, "until we meet again." We love you so much Adam, no well is deep enough to hold our tears.
A Memorial Service will be held at the Mountain View Funeral Home at 2:00 PM on Saturday February 10th, located at 1515 100 St SE Calgary Ab T1X 0L4.
A Public Viewing will be offered on Friday February 9th, from 6:00-8:30 PM for anyone who wishes to say a more personal goodbye to Adam.
We would like if you could wear something with a splash of red as that was always Adam's favourite colour.
Donations in Adam's name may be made to the Foothills Hospital Intensive Care Unit, the Halvar Jonson Centre for Brain Injury, Universal Rehabilitation Service Agency (URSA) or to suicide prevention.