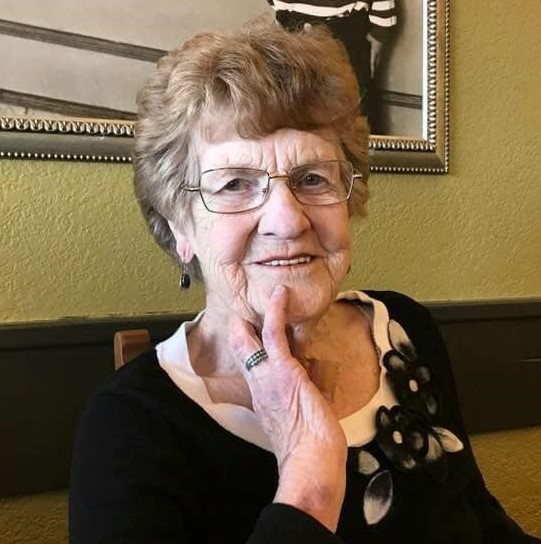 March 31, 1930 – July 10, 2023
Merle Kliner beloved wife of Robert Kliner (deceased) passed away on Monday, July 10, 2023, at the Foothills Hospital in Calgary, AB at the age of 93 years.
Merle was the loving mother of Janice (Jan) Swanson (Craig) of Beaumont, AB, Miles Kliner (Lynn) of Red Deer, AB, Sheralee (Sher) Follett (Brad) of Chestermere, AB; grandchildren, Anders Swanson (Leigh Anne), Kirsten Youngblood (Joe), Jordan Kliner (Hayley), Aryn Court (Ronnie), Brittney Mishio (Dominic), Liezl Swanson, Torrin Swanson, and Chase Follett; great grandchildren, Jasmin Hoeft-Way, Marius Way, Hazel Youngblood, Adilynn Youngblood, Braxton Youngblood, Poet Mishio, Finley Welch, Amelia Court, and Emmett Court; great great grandchildren, Naiomi Bodie and Stein Hatcher; as well as many other extended family members and friends. She was predeceased by her loving husband Robert Kliner, her parents, Hazel and Robert (Roy) Anderson; son, Garth Kliner; brothers Glen Anderson, Allan Anderson, Ross Anderson, Donald Anderson; and sisters Joyce Dobson and Shirley Anderson.
Merle was born in Stratton, Ontario. She was a member of the Church Girls in Training growing up. Once she graduated from high school, Merle decided to embark on a hairdressing career and went off to Marvel College in Winnipeg. Prior to marriage, she worked in Fort Frances, Toronto and Winnipeg as a hairdresser. After she was married and had her family, she decided to open up and own 2 beauty salons in Winnipeg, "The St. James Flair Beauty Salon" and "The Golden Curl". Merle had fun coloring her hair for special occasions like bright bright red or pink for Valentines Day or bright green for St. Patty's Day much to the chagrin of her children. Merle was an avid sewer and would stay up all night at Christmas making new outfits for her four children so they had something new to wear for church Christmas service. She made or helped make curtains, placemats and many grad and wedding dresses.
Merle gave up hairdressing when the family moved to Calgary, Alberta in 1975. It was in Calgary that Merle became a realtor where she excelled and won many awards for her achievements. Merle especially loved working with new home buyers helping them to find the perfect home and over the years she had many repeat clients selling their homes and buying new ones. She would stay up all night if she had to find someone their forever home. Merle retired from real estate in 1990.
Merle was a member of the Chestermere Whitecappers Association. She was always helping to cook food for some of their special dinners. One of Merle's specialties was Wiener Schnitzel and everyone requested that she make that. There was always yummy cooking in Merle's kitchen. She would cook up a storm of dainties and cookies especially at Christmas. Merle was also a member of the "Red Hatters Club" for years and had many memorable trips and fun crazy outings with them.
Some of Merle's favorite things to do were: gardening with Robert her husband, sewing, playing bridge and bingo, doing crosswords, word searches and puzzles, encouraging music, spending time with family and over her life time, anything she put her mind to, she mastered quickly.
In 1953, Merle married Robert Kliner in a lovely wedding ceremony in the afternoon on Friday June 19th. Merle and Robert were supposed to get married a week earlier but Robert had to report to a new job so their wedding was postponed one week. Their marriage took place in Fort Frances, Ontario at the Church of the Lutheran Hour.
Merle and Robert celebrated their 70th Wedding Anniversary on June 19, 2023.
Merle worked tirelessly so that her children were able to have lessons in music, sports or other activities which otherwise would not be affordable. She loved to go to her family functions and events and took great pride in their successes. She was the matriarch of the family, encouraged family get togethers and she will be dearly missed.
Merle's beloved husband Robert, passed away in the evening on Monday June 26, 2023, 7 days after their 70th Wedding Anniversary. Merle was taken by ambulance the morning of June 26th. She passed away 14 days after Robert and now the two are together, resting in peace with love for each other.
Many have asked about contributing to a memorial donation in Merle's name. The family has chosen a music foundation that provides music opportunities (lessons, instruments) to children that are need of support for music lessons or equipment where they otherwise would not have an opportunity. While the foundation chosen is local to Edmonton area, Merle's daughter knows the foundation. With the love of music, Merle and Robert would be so pleased to provide this type of opportunity to a child in need. Please check the foundation online for a video of what the foundation is all about. As a registered nonprofit (Alberta Society Number 5020548151), they do not offer tax deductible receipts. They can offer a receipt for your donation if you let them know in the message of the e-transfer. To make donations to this preferred foundation you can do so by mailing a cheque to Thaddeus Lake Music Foundation (49374 RR 243, Leduc, AB, T4X 2R6). E-transfers may go to: thadsfoundation@me.com.
To view and share photos, condolences and memories of Merle and Robert's, please visit www.choicememorial.com.
Merle and Robert's celebration of life is set for September 3, 2023. Place and time TBD.