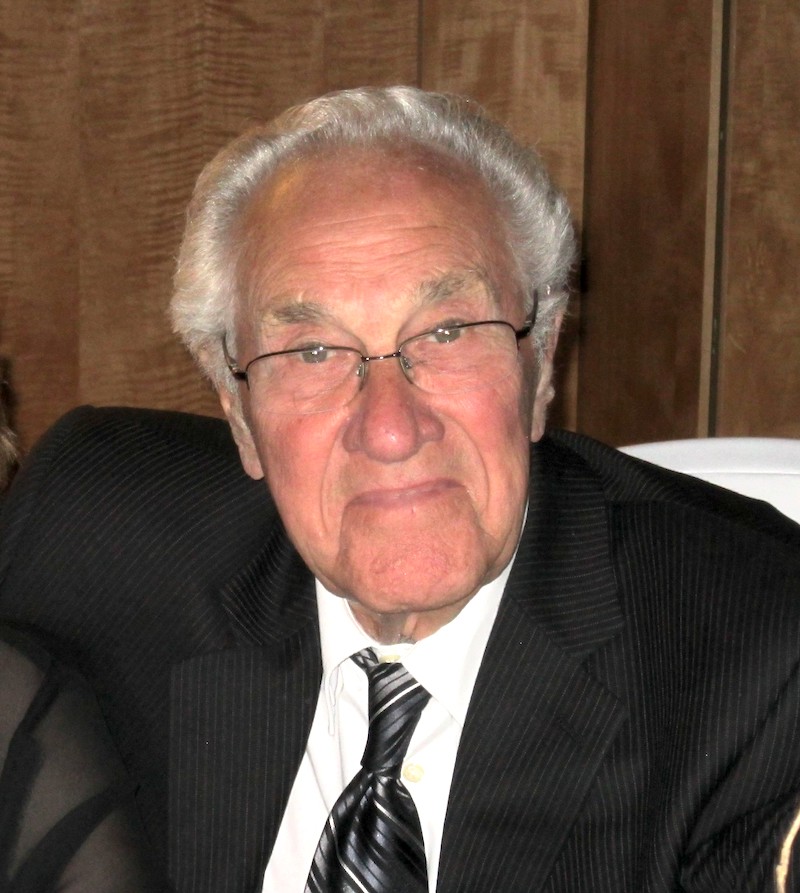 March 23, 1924 – June 26, 2023
Robert Kliner beloved husband of Merle Kliner passed away on Monday, June 26, 2023, at the Foothills Hospital in Calgary, AB at the age of 99 years.
Robert was the loving father of Janice (Jan) Swanson (Craig) of Beaumont, AB, Miles Kliner (Lynn) of Red Deer, AB, Sheralee (Sher) Follett (Brad) of Chestermere, AB; grandchildren, Anders Swanson (Leigh Anne), Kirsten Youngblood (Joe), Jordan Kliner(Hayley), Aryn Court (Ronnie), Brittney Mishio (Dominic), Liezl Swanson, Torrin Swanson, and Chase Follett; great grandchildren, Jasmin Hoeft-Way, Marius Way, Hazel Youngblood, Adilynn Youngblood, Braxton Youngblood, Poet Mishio, Finley Welch, Amelia Court, and Emmett Court; great great grandchildren, Naiomi Bodie and Stein Hatcher; as well as many other extended family members and friends. He was predeceased by his parents, Mary and Henry Kliner; son, Garth Kliner; brother, Adolph (Ed) Kliner; and sister Lillian (Lil) Lamb.
Robert was born in Fort Frances, Ontario on March 23, 1924, the eldest of four children. He had fond memories of living a short time on a farm in La Vallee, Ontario in the 1930's. Dad loved to tell the story about his dog name Fido, that looked like a wolf and one day mistook it for a wolf coming out of the bush. As Dad told the story, he went over the fence, under the fence and through the fence with his mom yelling at him that it was his dog not a wolf.
As a teen, he was a goal tender for the Fort Frances Maple Leafs. After high school, he went to radio college in Winnipeg and started his career with the Department of Transportation. He was posted in Montreal, Edmonton, Grand Prairie, Teslan, Watson Lake and Ft. St. John.
In 1953, Robert joined Trans-Canada Airlines (Air Canada). On June 19, 1953, he married Merle Margery Anderson. After completing a course in Winnipeg, Robert was stationed in Regina where their first child, Jan was born. A year and a half later they moved back to Winnipeg where they lived when Miles, Sher and Garth were born.
Robert was transferred to Calgary in 1975 and retired from Air Canada in 1983. They moved out to Chestermere, Alberta in 1990 where Robert continued his love of gardening. Every home they lived in had beautiful landscaping and gardens. Robert had a beautiful voice, singing in many choirs but spent the most of his time singing with the St. James Choir in Winnipeg, Manitoba and the Confederation Choir in Calgary, Alberta. He also played the organ at Lutheran Churches in Winnipeg. _He played guitar, piano, organ and was best known for his love of playing the accordion. He played in several bands in Winnipeg and Alberta. He was always asked to play his music at parties and family functions and always got the crowd going with his never-ending songs in his repertoire.
Robert was a member of the Whitecappers Association in Chestermere, Alberta. There he made many friends, played music for them and had many fond memories of his time spent with them.
Robert curled and played and coached baseball but hockey, playing and coaching and watching was his sports' passion. He passed his love of sports and music on to his children, and he loved to watch his children play sports or attend their music concerts.
Robert loved being with family, Christmas sing-alongs at the piano and with children. If there was a baby around, it would be asleep on Robert's shoulder or in his arms with him showing all the pictures on the wall and telling great stories.
Robert celebrated his 70th Wedding Anniversary to Merle Kliner on June 19, 2023.  Robert was a caring, loving, talented and honorable man that cherished his time with his family. We were blessed.
Many have asked about contributing to a memorial donation in Robert's name. The family has chosen a music foundation that provides music opportunities (lessons, instruments) to children that are need of support for music lessons or equipment where they otherwise would not have an opportunity. While the foundation chosen is local to Edmonton area, Robert's daughter knows the foundation. With the love of music, Robert would be so pleased to provide this type of opportunity to a child in need. Please check the foundation online for a video of what the foundation is all about. As a registered nonprofit (Alberta Society Number 5020548151), they do not offer tax deductible receipts. They can offer a receipt for your donation if you let them know in the message of the e-transfer. To make donations to this preferred foundation you can do so by mailing a cheque to Thaddeus Lake Music Foundation (49374 RR 243, Leduc, AB, T4X 2R6). E-transfers may go to: thadsfoundation@me.com.
To view and share photos, condolences and memories of Robert and Merle's, please visit www.choicememorial.com.
Robert and Merle's celebration of life is set for September 3, 2023. Place and time TBD.