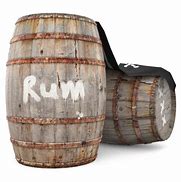 Those of you listening to the radio on September 19 may have been confused by all the Arrrr's and Avast's being tossed around by the announcers.
Yes, gentle reader, the annual Talk Like A Pirate Day has once again come and gone. As befits any good one-day-a-year pirate, I spent the evening wearing an eyepatch down at the pub, drinking nothing but rum, preferred drink of pirates from Captain Blood to Jack Sparrow.
You need look no further than the label of a bottle of Captain Morgan to see the longstanding connection between pirates and rum. With their hedonistic lifestyles of plundering, looting, and drinking rum, pirates were the quintessential party animals.
Unlike other spirits that are distilled from grains such as rye or barley, Rum is made from sugar cane. Sugar cane is actually a grass instead of a grain, and grows in tropical climes the world over, but most famously in the Caribbean.
As the name implies, sugar cane is where we get sugar from. One of the byproducts of sugar preparation is a syrupy liquid called molasses. Molasses was originally considered a waste product of sugar production with no practical commercial value – it was generally fed to cattle until a bright young sugar plantation worker on the French island of Martinique tasted molasses that had fermented in the sun.
An industry was born at that moment in 1650, and the sugar plantations could now turn their waste product into liquid gold. Rum is now one of the major exports of several Caribbean islands.
A distillery will add yeast to molasses in order to ferment the sugar content into alcohol, which takes as little as a day or two. This produces a liquid with a strength of only 10% alcohol by volume, so excess water is boiled off in large stills to concentrate the rum.
After the rum is distilled to approximately 40% alcohol by volume, it is aged in oak barrels that once held whiskey to give it a more elegant taste. While aging in the oak barrels, the rum changes from its naturally clear hue to a golden brown.
Rum can be aged in the barrel for as little as one year, or as long as thirty. However, once the rum is removed from the barrel and bottled for sale, the effects of aging pretty much stop. Unlike red wines, rum does not improve with age in the bottle, so don't worry about drinking a bottle of rum before its time.
At your local drinking establishment, you will usually find both light and dark rum. As I mentioned earlier, rum gets darker for each year it is aged in oak barrels. Light rum has actually been filtered through charcoal to remove its coloration, leaving it with a lighter-bodied subtle taste. Dark rums are usually aged in barrels for a much longer period, and have a deeper, more full-bodied aroma and flavor. Some distilleries will even add burnt caramel to darken their rums and add to the taste.
Since rum is primarily produced where sugar cane harvests are plentiful, Canada is not a major player in world rum production. Even the famous Newfie Screech is a Jamaican rum that is imported to Newfoundland and aged for several years before serving.
While you can find Screech at well-stocked liquor retailers, it's a bit harsh for first-time rum drinkers. I recommend you start out with a light rum, which mixes well into fruity drinks like Pina Coladas. Medium-dark rums are usually enjoyed with a coke and maybe a bit of lime juice, while the darkest, richest rums are best consumed straight-up, without any mixer.
Should you be a supporter of our local Alberta hooch producers, we have craft rum distillers in abundance, with Romero Distilling located near the IKEA in Calgary, producing premium rums from fancy blackstrap molasses and pure Alberta glacier water, then lovingly aged in ex-bourbon casks.
Looking further north, Rig Hand Distillery in Nisku makes a 100% Canadian version of rum, substituting sugar beets for sugarcane. Also near Edmonton are the Secret Barrel Distillery and T-Rex Distillery, both of which start with imported ingredients from the Caribbean, then add locally sourced spices and oak barrels for aging.
Whether you prefer sipping a black rum straight from a tumbler, or mixing in coke for a highball, rum remains one of the most popular spirits around the world, so ask for it at your next tippling event!