The St. Gabriel Catholic Women's League (CWL) council is calling all Chestermerians to clean out their cupboards and closets to support an annual fundrive.
Until June 5, Chestermerians can bring gently used clothes, household textiles, and small household goods to the Synergy trailer between 9 a.m., and 8 p.m. in the Eric's No Frills parking lot.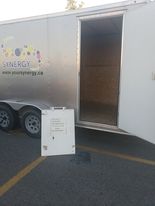 CWL president Angela Martin explained that the donated items will help the council raise funds for the annual Grade 12 scholarship and other local initiatives.
"This is one of our annual fundraising efforts for the CWL council, it's how we've chosen to raise money to support how we give back to the community," Martin said. "We look each year at how we can give back to the community, it helps fund initiatives, or make a donation for other programming."
Sought-after items include men, women, and children's clothes and accessories, bedding, towels, curtains, pillows, pots and pans, dishware, home decorative items, toys, games, small electronics, and books.
Donations should be packed in bags or boxes and be clean and in sellable condition.