East Lake School took top honours at the Calgary Youth Science Fair.
This year, 11 East Lake students entered nine projects into the science fair, winning five gold medals, one silver medal, four bronze medals, one honourable mention medal, and cash prizes.
East Lake Grade 6 teacher, Christina Van den Eynden also won the CCSPE Elementary School Aggregate Award for being the top-scoring school on projects out of all the schools.
Students spent two days at the Olympic Oval and were judged by people working in different fields of science. On the second day, students were awarded medals based on how well they did during the judging rounds the day before.
"At the Calgary Youth Science Fair, you could feel the energy, it was a combination of excitement and anticipation. Students were nervous yet excited," Van den Eynden said.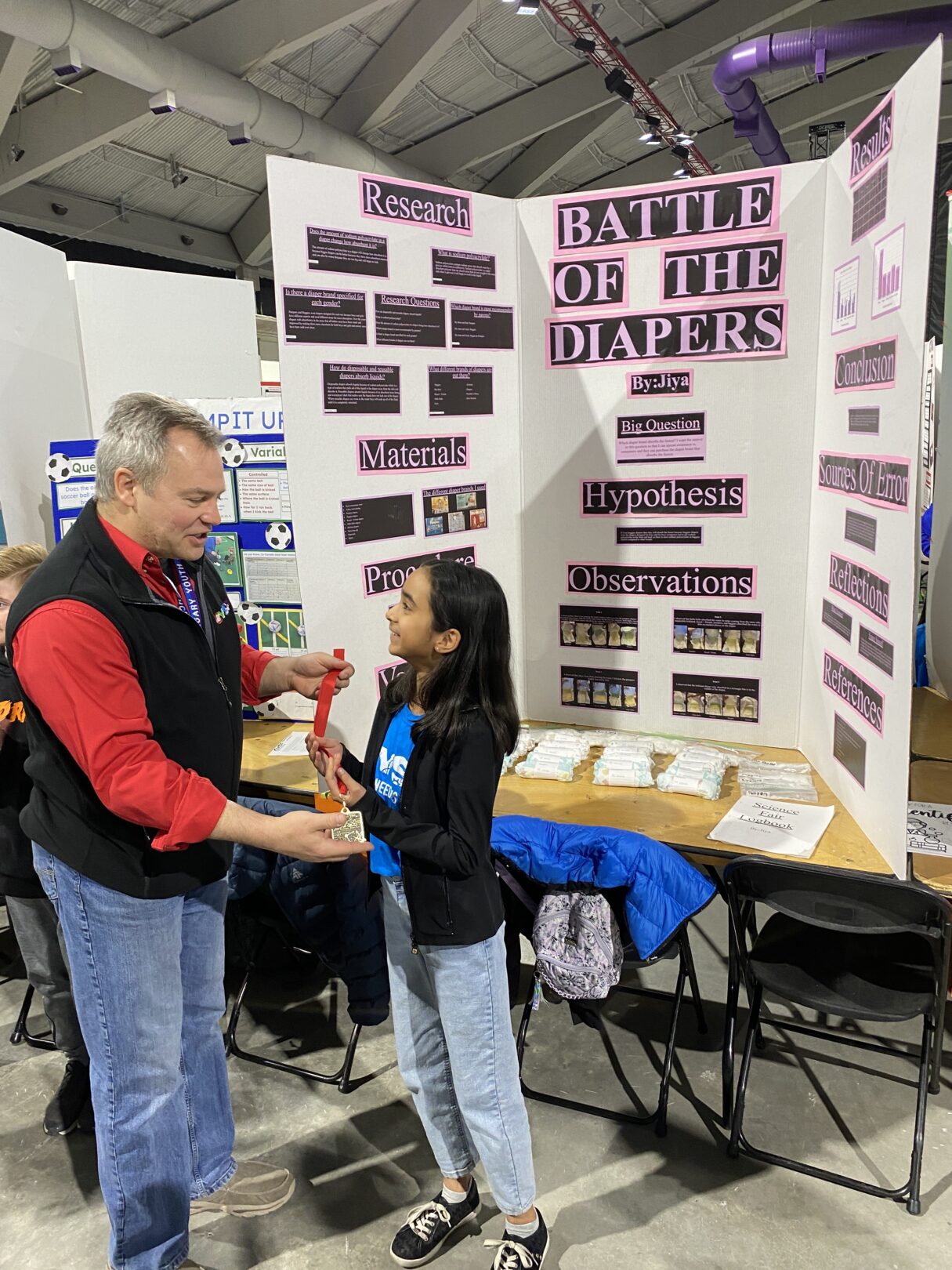 She added, "I was over the moon with excitement when we found out the results of the fair. I was overwhelmed with emotion as we far exceeded my expectations. I was so incredibly proud of all of our students and their achievements."
Students were inspired to create projects on bacteria, how to keep drinks from getting cold too quickly, the best popcorn-popping time, and what the best psi for a soccer ball is.
"Mannat and Ayah's inspiration for their project was Ayah loves bacteria and how it grows, and her partner Mannat wants to be an orthodontist and so they wanted to pick a project that covered both aspects," Van den Eynden explained.
Ayah and Mannat were awarded the CYSF Bharadwaj Life Sciences Award for Outstanding Project, the University of Calgary Haskane Business Hunter Center Elementary Award for Consumer Science, and the Alberta Teachers Association Award Elementary Award.
Ashley chose to test stain removers after she kept seeing her peers with stained clothes at school.
"She saw what a big issue this was and wondered if she could see what the best stain remover would be and how stain removers work," Van den Eynden said.
Anshveer won the CYSF Directors Award for Outstanding Project for testing what material blocks Wi-Fi.
Hockey players Nolan and Jawad wanted to see how the flex of a hockey stick affected their shots.
Aiden wanted to solve his dad's problem of his drink cooling down too quickly. Sarah was tired of eating burnt popcorn, so she wanted to determine what the best popping time was.
George wondered what the best psi for a soccer ball is, and how it affected the distance the ball travels, Jiya wondered what the best diaper brand is with two new babies in her family, while Mahnaz wanted to test different dyes on synthetic hair.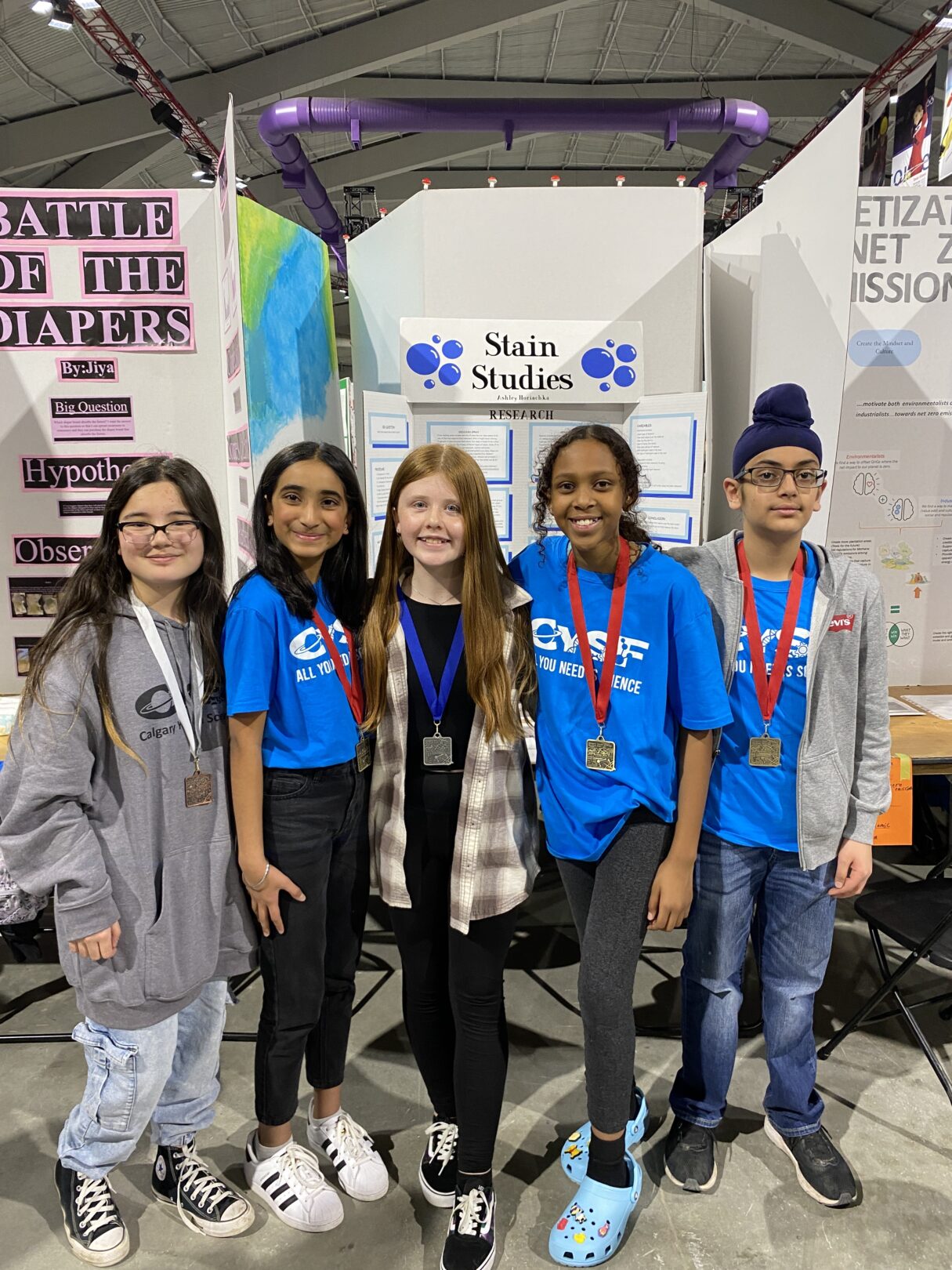 Van den Eynden explained that it's important for students to participate in science fairs because it gives students an opportunity to investigate real-world problems.
"Science fairs provide a platform for students to explore the scientific method and meet all students where they are in school," Van den Eynden said. "Those that want an extra challenge can push themselves and those that find school challenging can pick a project that also meets their academic ability."
Van den Eynden is hopeful students took away a love of learning from the science fair, and that the experience ignites a passion for science.
"Many of the students have sent me emails and come up to me in person thanking me for the best weekend of their lives and for all the memories they were able to make," Van den Eynden said. "They were incredibly excited to show their classmates their medals and awards."